WakeMakers
WakeMAKERS UniversalFIT Midship Ballast Bag (Multiple Sizes)
Details
Our FIT Series Midship ballast bag is specially designed to fit under the side seats in a v-drive boat and is offered in incremental sizes to provide the best possible fit.
Following up on the tremendous success and feedback of our exclusive UniversalFIT Rear Locker Ballast Bags, we are ecstatic to now offer a new line of UniversalFIT bags designed to go under the side seats on a v-drive boat (although they can be used wherever they fit). The unique design of these UniversalFIT Midship bags allows them to be integrated with the UniversalFIT Rear Locker bags for simultaneous filling and draining.
The team of product designers and engineers at WakeMAKERS agreed that a "one-size fits all" approach that other brands are taking isn't good enough. Seeking a better ballast solution than standard sized bags, we developed our series of UniversalFIT ballast bags, designed for specific zones of your boat and offered in incremental sizes to give you better fitment and improved wake performance.
Available in a range of sizes, the UniversalFIT Midship bags allow you to choose the dimensions that best fit underneath your seats. The result is a much better fitting bag, allowing you to fill to capacity and maximize added weight for the best possible wake. WakeMAKERS UniversalFIT ballast bags give you a nearly perfect fit without the expense of building a custom bag. Note, this ballast bag is sold individually.
All WakeMAKERS ballast bags come standard with an industry-leading two year warranty. The bags are constructed using DuraTEK, our proprietary material that is strong, durable, and puncture resistant. Once the material is cut, the bags are RF welded together with 1" seams to ensure a clean look and watertight seal. There are five 1" NPT ports on this ballast bag that feature a tapered thread pattern and bottom o-ring for a leak-free seal. The larger port size allows water to flow quicker for faster fill/drain times.
If you are shopping for a ballast bag to place underneath the seats in your v-drive boat, the WakeMAKERS UniversalFIT ballast bags are a no-brainer decision. From the quality craftsmanship to the innovative design, these ballast bags are built to deliver improved wakes behind your boat.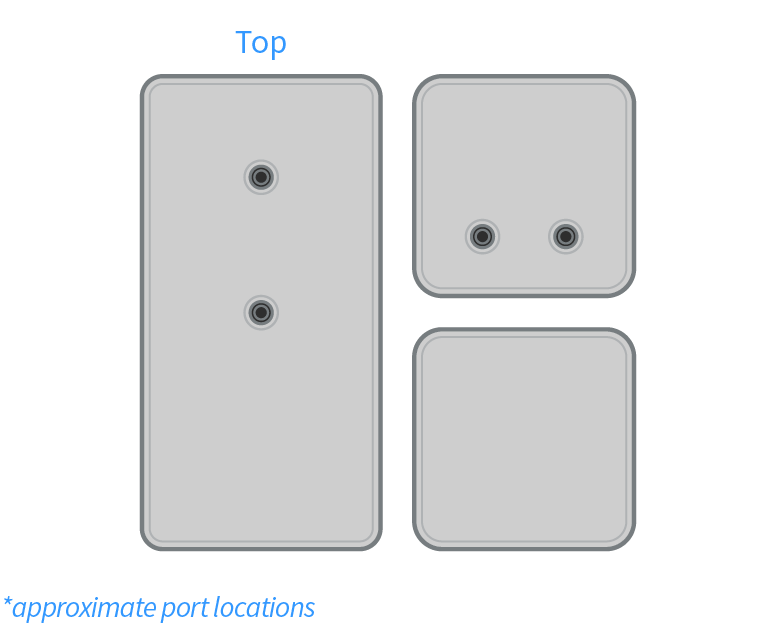 Ballast Bag Port Placement
The WakeMAKERS UniversalFIT Midship ballast bag has a total of four 1" ports. To the left are the approximate locations of the ports on this ballast bag
Product Specs
| | |
| --- | --- |
| Size | 20" - 60"L x 20"W x 8"H |
| Weight | 125 - 390 lbs. |
| Ports | 2 fill/vent - 2 drain |
| Warranty | 2 Years |
| Manufacturer | WakeMAKERS - view brand page |
| Manufacturer Part # | B0205 |
| Item # | P6446 |
| Warning | |
Customers Love Us
See what all of the hype is about.