WakeBallast
Jabsco Ballast King Pump w/Plug-and-Wake Connector (133lbs/min)
Details
The Jabsco Ballast King Reversible Ballast Pump is a high volume reversible ballast pump for fast fill and drain times.
The Jabco Ballast King Reversible Ballast Pump is one of the fastest when it comes to reversible pumps. If you're looking for the fast fill and drain speeds, the Jabsco King offers a speedy rate at 133 pounds per minute.
This pump features our Plug-and-Wake Connector for full compatibility with all of our Plug-and-Wake solutions. This is also a direct replacement for some ballast pumps installed in boats at the factory.
Versatile, High Volume Connection Options
The unique design of the pump head features integrated hose barbs for use with 1" hose, just slide the hose over the bronze inlet and outlet ports and secure with hose clamps.
Additionally, 1/2" NPT female connections are provided for use with smaller hose (use with optional 1/2" thread to 3/4" hose barb adapter to convert to the more common 3/4" hose size), giving you a multitude of connection options
Specifications
Fill Rate: This pump fills and drains at a rate of 133 pounds/min
Flow Rate: 960 Gallons Per Hour / 16 Gallons Per Minute
Physical Dimensions: 8"L x 4.75"W x 3.625"H
Inlet/Outlet: 1" Hose Barb and 1/2" NPT Internal Thread
Voltage/Max Current Draw: 12 Volt DC, 19 Amps (Recommended Fuse Size: 25 or 30 Amp)
Self-priming: Yes
Safety Features: Ignition Protected
Features
Fills an 800 pound bag in approximately 6 minutes and 25 seconds
Power source:

 

Plug-and-Wake Connector
Type: Component reversible pump for automated ballast system
Ignition Protected: Protects against ignition of fuel vapors or other combustibles.
Thermal Damage Protection: The integrated Thermal Damage Protection circuit monitors the temperature of the pump motor and automatically shuts it off if conditions indicate water is no longer flowing through the pump. This innovative feature will prevent damage to the motor from overheating.

*This is not designed to prevent damage to the impeller from running the pump dry and should not be depended on for that protection. Make sure to purchase the WakeMAKERS Timer Module for this application.

Ignition Protected: Designed for safe installation in the bilge compartment of the boat without risk of fire or explosion due to fuel vapors. This feature alone is crucial for safe operation, and is one important distinguishing factor between the Ballast Puppy and the similar pump to which it is often compared.
This is the stock pump and can be used as a direct replacement in the following models:
2017+ Nautique GS20, GS22 and GS24 boats
2017+ Nautique G21, G23 and G25 boats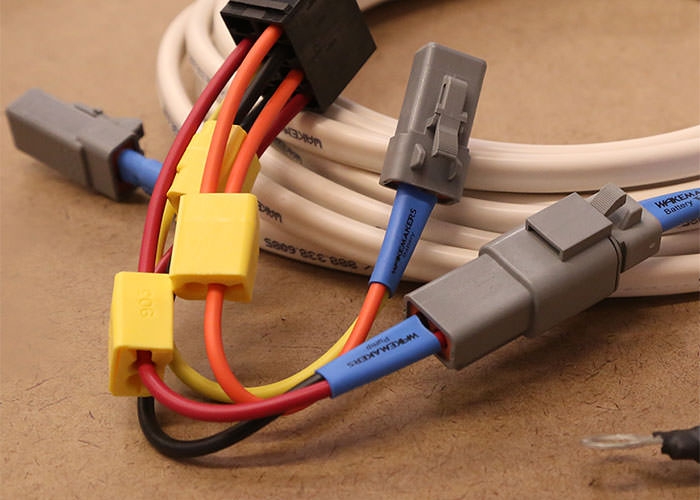 Plug-and-Wake Compatible
Plug-and-Wake is a wiring system exclusive to WakeMAKERS that takes the guess work out of installing electrical accessories in your boat. No knowledge required, just plug compatible components together like you plug in a light. Connections are secure, vibration-proof and weather resistant. Save time and eliminate mistakes.
We are an authorized distributor of Wake Maker products, water ballast and some plumbing fittings are made to order, please allow up to 2 - 3 weeks before your items arrive.
Customers Love Us
See what all of the hype is about.