WakeBallast
WakeMAKERS Plug-and-Wake 12 Reversible Pump Wiring Harness
Pickup available at AZ Warehouse az
Usually ready in 2 hours
This premium reversible pump ballast system wiring harness combines high quality components with the industry's most intuitive modular design.
Ensure a 100% correct installation by utilizing the exclusive Smart and Safe waterproof snap together WakeMAKERS Plug-and-Wake connection. The days of incredibly technical and time-consuming wiring to change the polarity in order to reverse the direction of the pump motor are over.
Convenience No cutting, splicing, or soldering required to install this ballast wiring harness. Shave hours off of you ballast system install and know that the pumps are wired correctly the first time. Spend your time riding behind the boat instead of being crammed under the drivers seat.
Modular Design Each wiring harness has been developed with universal compatibility in mind. Determine the distances between your switch and pump as well as your switch and battery location. Select the harness lengths that will provide the most run while minimizing left over wire. This system provides a painless installation no matter how much, or how little, marine electrical experience you have.
Smart and Safe Connection Maintaining a safe electrical system in your boat is the highest priority when making any modifications. Cutting corners to save money and time is never worth the end cost. Gain peace of mind in knowing that each ballast harness utilizes corrosion-resistant tinned copper marine wire and premium waterproof Deutsch connectors. Every wedgelock connector will be labeled for your convenience. The Smart and Safe connection system is engineered to connect the correct way saving you both time and money. With our Premium Reversible Ballast Pump Wiring Harness it is essentially impossible to connect the system wrong, so in addition to saving time during the install, you also know the system will function correctly the first time you flip the switch.
What's Included
Pump Harness
Battery Harness
Switch Block Module
Battery Terminal Module w/ Fuse Holder
2x 30 Amp Blade Fuses
Ballast Rocker Switch Body w/ Switch Actuator Cover Plate (optional)
ZipTies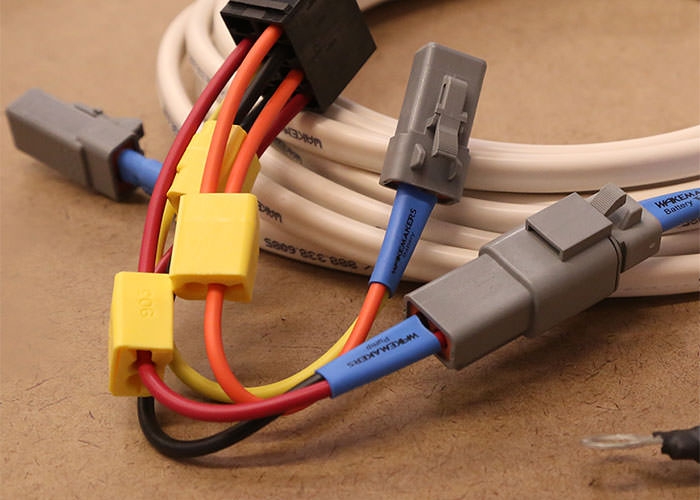 Plug-and-Wake Compatible
Plug-and-Wake is a wiring system exclusive to WakeMAKERS that takes the guess work out of installing electrical accessories in your boat. No knowledge required, just plug compatible components together like you plug in a light. Connections are secure, vibration-proof and weather resistant. Save time and eliminate mistakes.
We are an authorized distributor of Wake Maker products, water ballast and some plumbing fittings are made to order, please allow up to 2 - 3 weeks before your items arrive.
Customers Love Us
See what all of the hype is about.