WakeBallast
WakeMAKERS Premium Plug-and-Wake Reversible Ballast Pump (110lbs/min)
Pickup available at AZ Warehouse az
Usually ready in 2 hours
Details
Compatible with our Plug-and-Wake wiring system, our Premium Reversible Pump offers a respectable 110 pounds per minute of ballast filling power, and integrates perfectly with the WakeMAKERS ecosystem.
From the beginning, our goal was to offer the fastest, most durable and easiest to install reversible ballast pump on the market. The result is our Premium FIP ballast pump, which offers 12GPM (110lbs/minute) of flow, an industry leading 2 year warranty, and when combined with our exclusive Plug-and-Wake Wiring Solutions, is the easiest to install.
Also includes a polyurethane impeller as standard for superior performance and unparalleled resistance to run-dry damage.
NOTE: This pump is NOT a direct replacement for the original pump in most Mastercraft's, Yamaha's, Nautique's, Centurion's, Supra and Moomba models due to the differences in electrical load. If your boat uses a basic relay system this pump can be used, but more advanced Power Distribution Modules will require direct replacement with the factory pump. Please contact us for fitment questions and applications.
Versatile, High Volume Connection OptionsThe unique design of the pump head features integrated hose barbs for use with 1" hose, just slide the hose over the bronze inlet and outlet ports and secure with hose clamps. Additionally, 1/2" NPT female connections are provided for use with smaller hose (use with optional 1/2" thread to 3/4" hose barb adapter to convert to the more common 3/4" hose size), giving you a multitude of connection options.
Pump Properties
Fill Rate: 110lbs/min
Flow Rate: 720 Gallons Per Hour / 12 Gallons Per Minute
Physical Dimensions: 7.95" L x 4.72" W x 3.54" H
Inlet/Outlet: 1" Hose Barb and 1/2" NPT Internal Thread
Self-priming: Yes
Safety Features: Ignition Protected
Features
Fills an 800 pound bag in approximately 7 minutes and 15 seconds
Power source:

 

Plug-and-Wake Connector
Type: Component reversible pump for automated ballast system
Ignition Protected: Protects against ignition of fuel vapors or other combustibles.
Thermal Damage Protection: The integrated Thermal Damage Protection circuit monitors the temperature of the pump motor and automatically shuts it off if conditions indicate water is no longer flowing through the pump. This innovative feature will prevent damage to the motor from overheating.

*This is not designed to prevent damage to the impeller from running the pump dry and should not be depended on for that protection. Make sure to purchase the WakeMAKERS Timer Module for this application.

Ignition Protected: Designed for safe installation in the bilge compartment of the boat without risk of fire or explosion due to fuel vapors. This feature alone is crucial for safe operation, and is one important distinguishing factor between the Ballast Puppy and the similar pump to which it is often compared.
Suggested mounting hardware will depend on how you are mounting the pump:
For through-bolted applications (which is suggested due to the weight of the pump), we recommend a 3/16th drill bit and a #8 machine screw of appropriate length.
For surface mounting (when the back side of the mounting surface is unavailable), we recommend a 1/8" drill bit and a #8 sheet metal screw of appropriate length (see recommended accessories).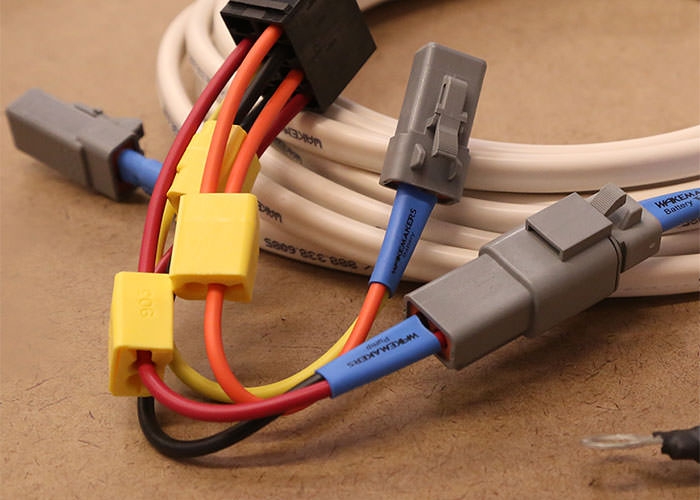 Plug-and-Wake Compatible
Plug-and-Wake is a wiring system exclusive to WakeMAKERS that takes the guess work out of installing electrical accessories in your boat. No knowledge required, just plug compatible components together like you plug in a light. Connections are secure, vibration-proof and weather resistant. Save time and eliminate mistakes.
We are an authorized distributor of Wake Maker products, water ballast and some plumbing fittings are made to order, please allow up to 2 - 3 weeks before your items arrive.
Customers Love Us
See what all of the hype is about.